This Autumn,
Fujii Kaze will hold the first live music performance
the Panasonic Stadium Suita has ever seen.
It will also be his first outdoor concert ever
in front of a live audience.
Feel the Autumn "Kaze".
October 15, 16 (Sat, Sun).
At Suita, Osaka, we will see you.
Fujii Kaze
LOVE ALL SERVE ALL
STADIUM LIVE
Artist

Fujii Kaze
[From the Band]
Gt. TAIKING (Suchmos) / Ba. Katsuhiro Mafune / Dr. Hide Sajinori / Key. Yaffle

Date

October 15, 16 (Sat, Sun) 2022

Location

Opens

/


Starts

/


Ends

15:00

/


17:00

/


19:00

Sponsor

GREENS CORPORATION

Planning/
Production

HEHN RECORDS /
GREENS CORPORATION

Support

Panasonic Stadium Suita /
UNIVERSAL SIGMA

Contact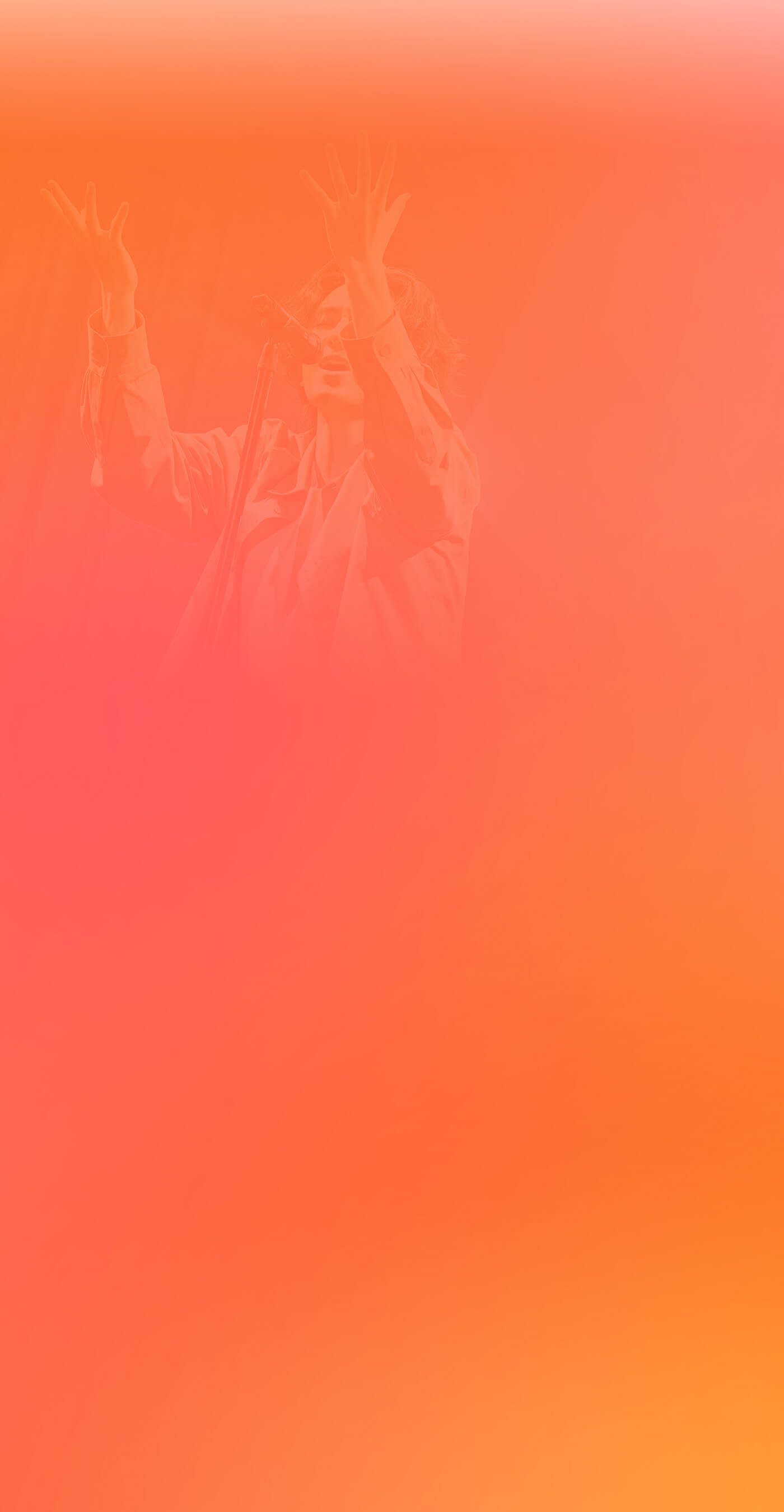 WHEN ARRIVING
【TICKETS】
No tickets on sale at the door
Please bring and show your ID if your ticket requires you to do so
【ENTERING AND EXITING THE VENUE】
If your seats are in the arena: please enter from below Gate 1 (located under the stairs). Arena seats are divided into six blocks as per below and entry times are split to avoid heavy congestion:

Please arrive near Gate 1 after the stated time
15:00 - Radish and Carrot Block
15:30 - Pumpkin and Lotus Root Block
16:00 - Cucumber and Eggplant Block
16:30 - All blocks may begin entry
To protect the grass, consumption of food and drinks are prohibited in arena seats (with the exception of bringing and drinking water)
If your seats are in the stands: please enter from Gate 1, 2, or 4.
All fans in all seats will be asked to exit the stadium following the end of the concert.Thank you for your cooperation.
IMPORTANT INFORMATION
If you do not have a ticket, hanging around the stadium or the premises nearby will not be permitted. Trying to catch the music from outside, or waiting for the performers around the stadium including on public transport will not be allowed.
Any gifts, letters, flowers will not be received, no matter the reason or circumstance.
There are no cloakrooms or coin lockers at the stadium, but you can drop off your strollers from below Gate 1 and 4.
Smoking is allowed near Gate 4 at the designated smoking area. As space is limited, there may be a limit on the number of people allowed in at the same time. Please observe good manners and rules, especially when conversing and where loud noises are concerned.
No photos or recording of videos (including sound) are allowed when entering the stadium and during the concert (photos, videos are allowed after the concert).
Any glow sticks, or items with light or sound that interfere with the stage or performance are prohibited.
As outdoor stadiums may get warm during the day then cold at night, please check the weather and prepare for appropriate clothing.
In the case of rain, please bring a raincoat. Umbrellas are not allowed inside the stadium.
As rules and regulations may change to ensure safety and security on the day, please follow the instructions by staff on the venue.
Please note that photos and videos shot by event management may capture the audience and be released on a later date.
The event management, performers, or the venue will not be responsible for any accidents or thefts in or outside the stadium.
The management will not be responsible for any costs for transportation, accommodation (or cancellation fee) incurred due to cancellation or delay of the concert.
The concert is managed and run based on the guidelines and policy provided by the government, the city and related entities.
Masks are required in and outside of the stadium. You will not be allowed entry if you are not masked.
Resale of tickets are strictly prohibited. Tickets acquired via resale will not be allowed entry.
Please observe the rules above, as you may be asked to exit the stadium if they are breached.
The event management team is thrilled to have you, and ensure a safe and great concert for all. Thank you for your presence, help and cooperation.

Ticket Pricing
Seating
Price
Area
S Seats
¥9,000
Arena

・


3F Stands

・


4F Stands
A Seats
¥8,000
5F Stands
Parent-
Child Seats
Parent:¥9,000

/


Child:¥4,500
5F Stands Front View
Wheelchair Seats
¥9,000
3F Stands
(at the rear)
Stage-Side Seats
¥6,000
Stage-Side
Note

Tickets required for age 3 and above
(age 2 and below can sit on parent's lap. One child per parent)
Purchasable Number of Tickets: Up to two tickets (excludes Parent-Child Seats)
For further details regarding tickets, please refer to the booking page
Cancelled in stormy weather

[About Parent-Child Seats]

Seats are on fifth floor. No standing is allowed
Available up to six tickets, within which up to two tickets are allowed for adults.
>If one adult, up to five tickets for children<
>If two adults, up to four tickets for children<
Adult Age: Parents or guardians in high school or above / Children Age: Age 3 - 3rd year of junior high school
All adults and children must be together before entering the stadium
Your child's ID may be required as proof of age when entering

[Wheelchair Access]

Seating available on 3F stands at the rear
One assistant allowed per person in wheelchair
Assistants are also required to purchase wheelchair seating
Wheelchair seating not available if not in wheelchair

[Stage-Side Seats]

The seats are located stage-side, and the concert performance can hardly be seen.
We would appreciate it if only people who understand this situation would apply for these seats, as we have prepared them for the people who wish to experience the live performance ambience.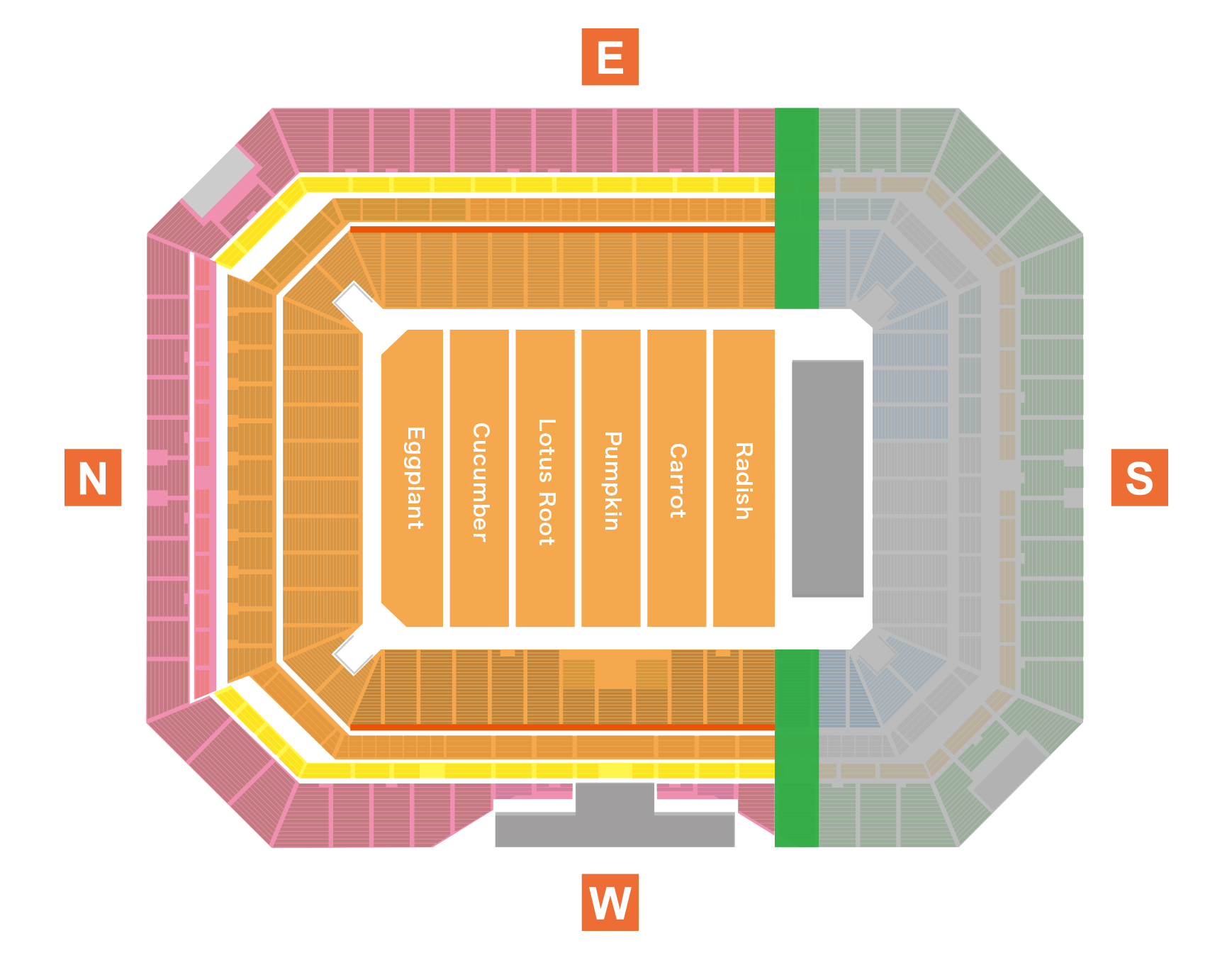 S Seats ¥9,000 - Arena・3F Stands・4F Stands
A Seats ¥8,000 - 5F Stands
Parent-Child Seats
Parent:¥9,000/Child:¥4,500 - 5F Stands Front View
Wheelchair Seats ¥9.000 - 3F Stands (at the rear)
Stage-Side Seats ¥6,000…Stage-Side Stands
AREA MAP
Both 'LOVE ALL AREA and 'SERVE ALL AREA'
are accessible to concert ticket holders only.

We thank you for your understanding and for taking measures
to avoid heavy congestion in concert areas and on public transport.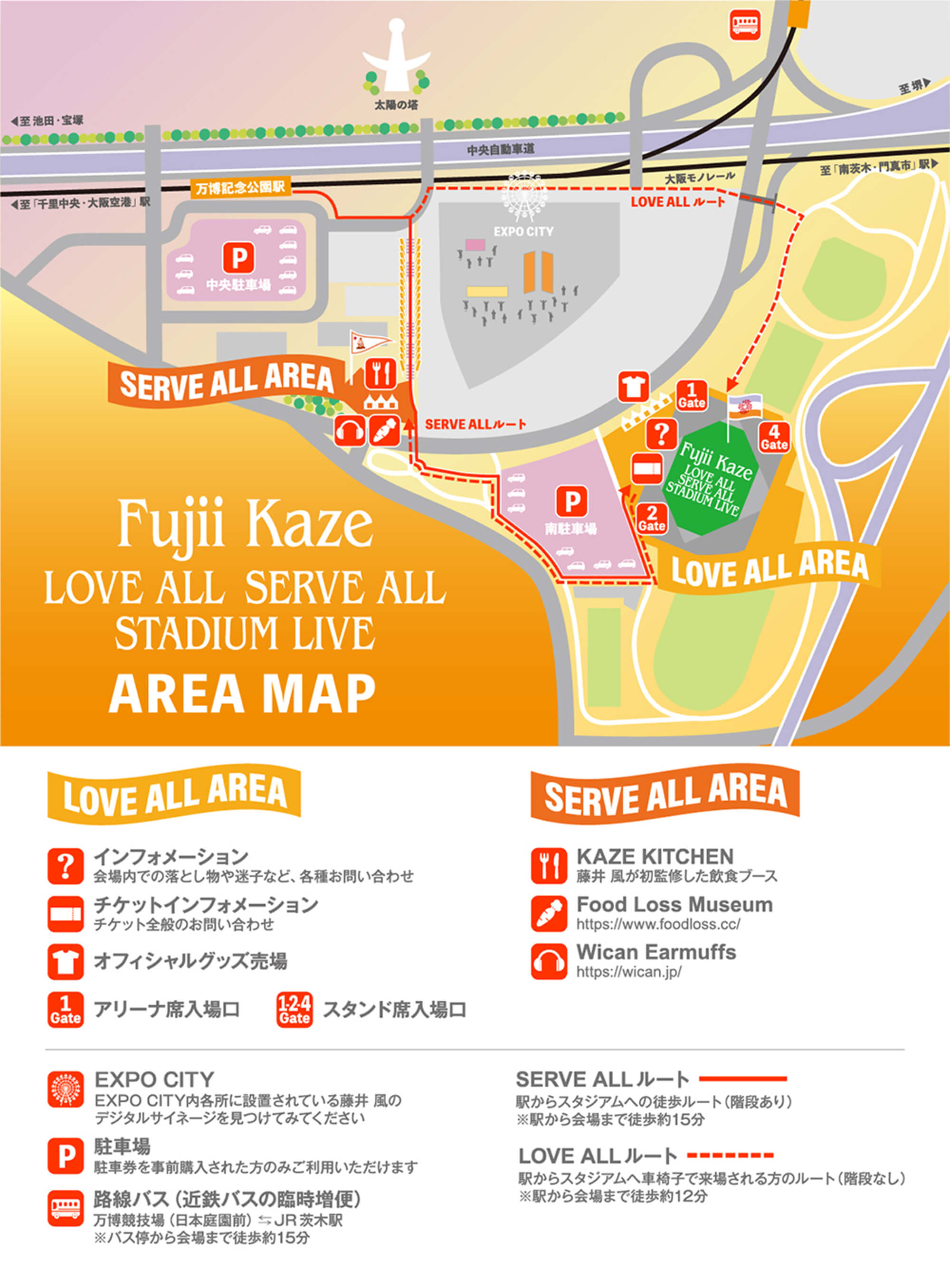 LOVE ALL AREA
Open from 9:00 until the end of concert, but closed during the concert.
*Opening hours are limited after the end of the concert *Credit cards, e-money, cash (allowed for purchase of merchandise)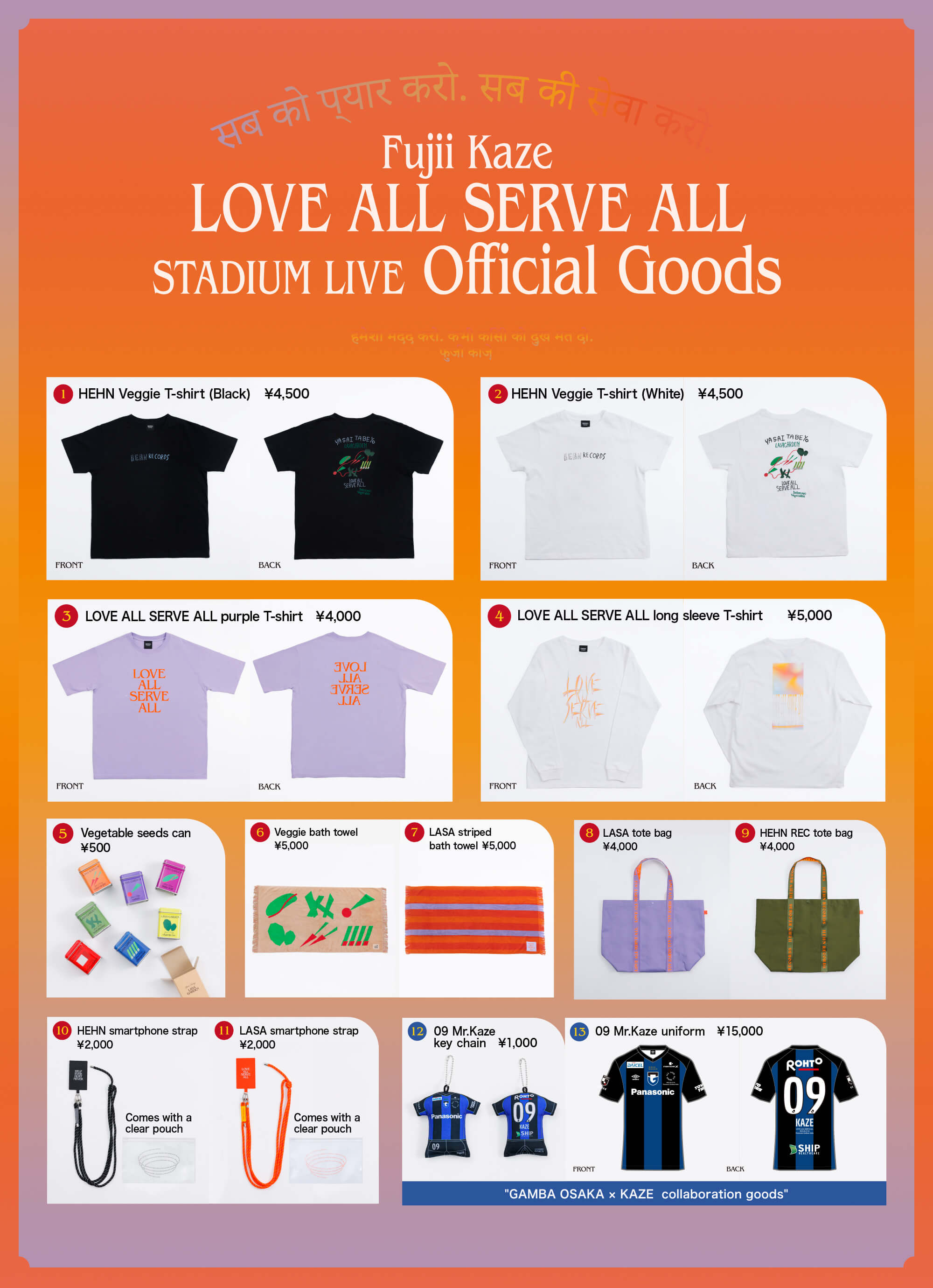 In order to ease the wait and shorten queues when purchasing official merchandise on the day, we ask our fans to receive a numbered ticket (available by lottery, at no additional cost) via the LINE app.
For details regarding merchandise and numbered tickets, please add 'LASA STADIUM' on LINE.
*Please note that you will be required to have a numbered ticket if you plan to purchase merchandise before the start of the concert.
'LASA STADIUM' LINE
SERVE ALL AREA
Open from 10:00 - 17:30 on concert days
*No credit cards, cash only
'KAZE KITCHEN' brings food for the body and heart created by Kaze.
The menu is chock-full of healthy vegetables as well as soy meat to replace animal products.
Enjoy Kaze's original vegetarian menu that nourishes both you and the planet.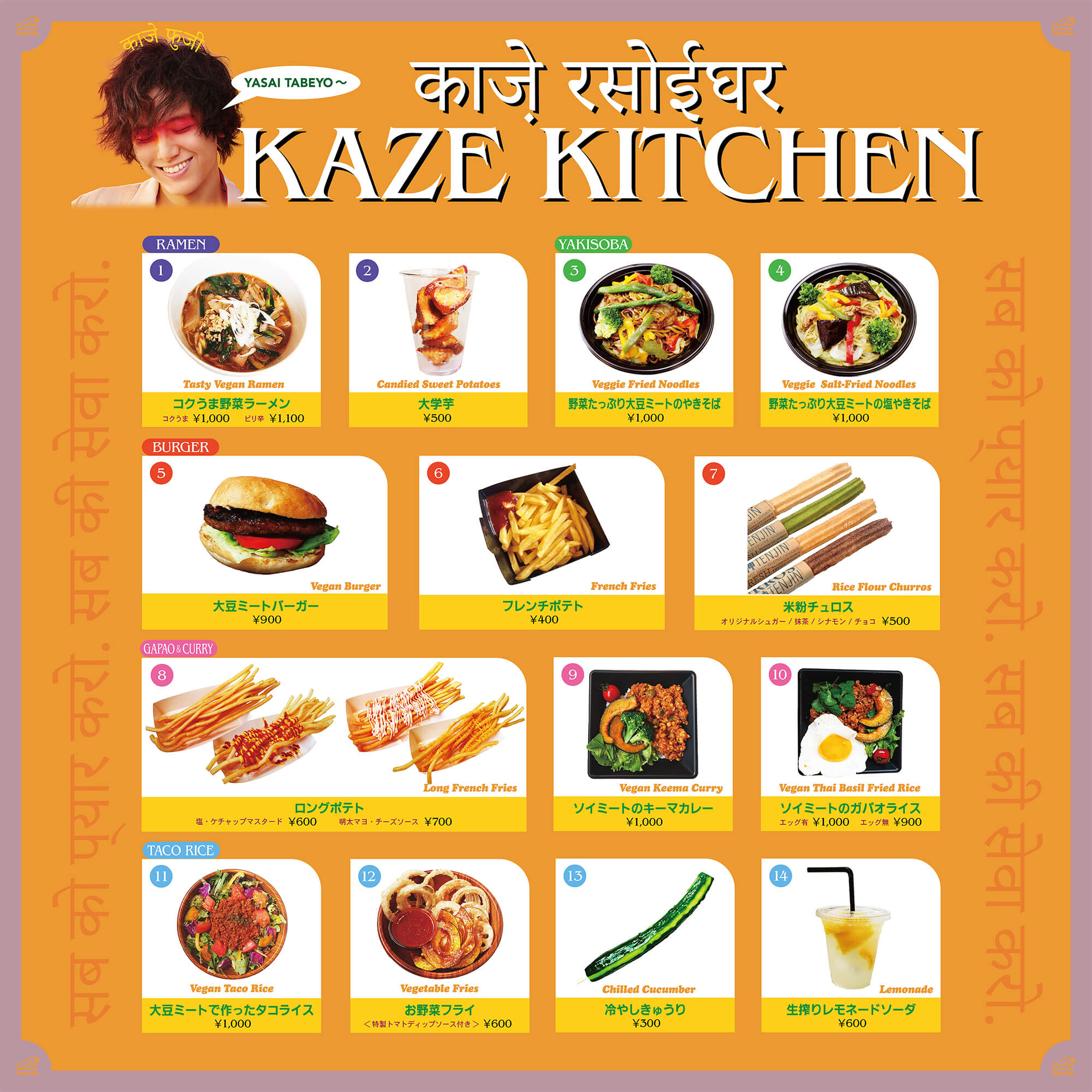 Enjoy live music with the entire family with these earmuffs made with love for our children. Wican earmuffs protect your child from loud sounds while making sure the enjoyment of music is never lost. There will be a free giveaway of these earmuffs (first-come-first-served). Additionally, 'LASA Earmuffs" will be available for purchase and comes with an original pouch and sticker.

October is 'Food Loss Reduction Month'. With the goal to spread awareness of food loss and deliver food for current and future generations, visit this booth to learn about food loss in Japan, and purchase an original LOVE ALL SERVE ALL tote bag-filled, assortment of imperfectly shaped, yet perfectly fresh vegetables made with love and care. The assortment will be available as the 'Hehn Veg Set' and is limited in availability (first-come-first-served).
When you shop in the SERVE ALL AREA, each person will receive a 'hehn rec vegetable' sticker at each check out at the counter
(Sticker colors vary at each shop. Available until stocks last).
15-minute walk from Bampaku-kinen-koen
Station on the Osaka Monorail Line
*For public transport, please use touch-and-go IC cards to help
ease congestions
A temporary parking area will be located
next to the South Parking Lot
The parking lot is available only to people
who purchase a parking-access ticket.
※Please do not park illegally around the stadium, without permission in a neighboring building, or cause trouble by parking shuttle cars, as these actions will cause great inconvenience to the local people.
Temporary Shuttle Bus Service
JR Ibaraki Station, Kintetsu Bus
(West Exit, Bus Stop No. 04
⇄ Bampaku-kinen-koen
(Japanese Garden entrance)
[Fare: JPY220]
*Continued operation from 9:00 to 22:00